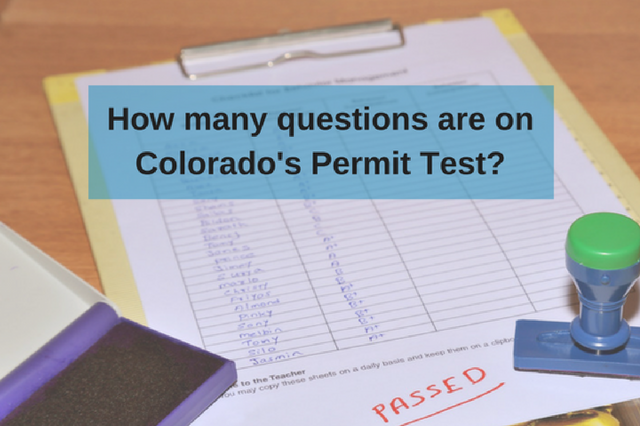 Indeed, how many questions are there?
In the state of Colorado, the written driver's test includes a total 25 questions. To get a passing score, you must correctly answer at least 20 of those questions, or obtain a grade of 80%. If you fail the test, you can retake the test the following day, if you feel like it. (Depending on which data you are looking at, first-time applicants who fail the permit test run anywhere from 44% to 70% of the total number of test takers.)
Although Colorado allows permit test applicants to retake the exam multiple times without penalty, we advise you to take a step back and reflect on what went wrong before you give it another shot.
Were you prepared enough?
Did nervousness get the better of you?
Did you adopt the dangerous "I already know these things" mindset and went to the exam venue thinking you would pass with flying colors without studying?
Preparing for the permit test
The driver's permit test, which is one of two major tests every Colorado teenage driver must pass to obtain a driver's license (the second is the actual road test), is a written exam that measures any prospective driver's knowledge of safe driving rules and Colorado's driving laws. While it is "written," with the installation of the Colorado Automated Testing System, the test is taken electronically.
Note that aside from the written test, you should also pass the vision test to get your provisional driver's license.
What type of questions should you expect?
Questions on the permit test include real-life driving scenarios that gauge your knowledge on several topics, such as:
Traffic signs
Colorado driving laws
Driving under the influence
Safety rules
Applicable legal items
What can you do to pass the exam?
You know what they say about success: "Success is where preparation and opportunity meet."
In other words, the only way to guarantee a passing score is to prepare for the permit test adequately. Depending on your learning preference, availability, and other factors, there are several things you can do:
Study the Colorado driver's manual. You can download the Colorado Driver's Handbook here. It tells you everything you need to know about driving in the state of Colorado.
Download online practice tests. Practice questions can be found on various online sites, such as Driving-Tests.org. Google "Colorado driver's permit practice test" to start your search. Both free and paid options are available.
Enroll in a driver's ed course from a DMV-recognized driving institution. Western Slope Driving Institute's Parker driver's ed course is a state-approved training course for prospective drivers, and even long-time drivers who want to brush up on their knowledge of Colorado's driving laws.
On the day of the test, always remember to:
Relax. Jitters and nervousness can cause your mind to go blank and forget everything you have learned.
Get enough sleep. You do not want to fail the exam because you are too tired to focus.
Final word
The road to obtaining a driver's license can be nerve-wracking, but with knowledge comes confidence. Remember: When it comes to the Colorado driver's permit test, preparation plus adoption of the right mindset can do you no wrong.

If you need expert help to prepare for the Colorado permit test, WSDI's instructors, who are former law enforcers and first responders, can guide you in the right direction. Call us for any questions