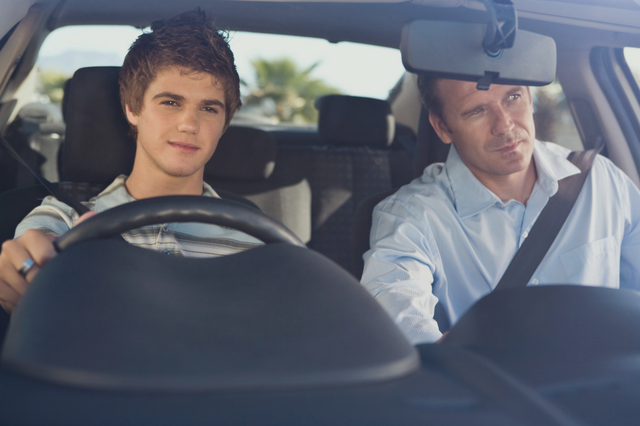 In Colorado, not all teenagers applying for a learner's permit are required to undergo a state-approved driver's education program. Depending on your child's age, the permit requirements, as designed by the Graduated Driver's License (GDL) system, are as follows:
Age 15: The teen should have completed a 30-hour driver's ed course from an accredited driving institution within the last six months.
Age 15 ½: The teen should have completed either the 30-hour driver's education course or a four-hour driver awareness program.
Age 16 and above: No formal driver education or awareness programs required.
Parent-taught driver's education
Parents are a child's first teachers. You taught them how to walk, talk, dress, socialize, and pretty much everything during their childhood. Because parents are the most invested in their children's safety and overall well-being, there is no reason parents cannot teach their children how to drive, as long as they are qualified. This means:
You hold a valid driver's license and know the rules of the road.
You are willing to take full responsibility in case something goes amiss while teaching your child how to drive.
Your teenager of at least 16-years must still pass the test to obtain a permit, but they are not legally required to take a driver's ed or awareness course to qualify for a learner's permit. Your teenage driver must still pass this test to obtain his or her learner's permit. As such, your child may turn to you and parent-taught driver's education to help them sail through the exams.
Several options are available for parents to accomplish this:
Bank on your own knowledge of driving laws and road safety.
Refer to the Colorado Driver Handbook and download supplemental teaching materials online.
Partner with an approved course provider and administer the lessons at home.
Enroll your child in an online driver's ed course and go through the lessons together.
Upon passing the Colorado's written driver's ed test and the vision exam, your teenager will be issued a learner's permit (which they must hold for at least a year) to start practice driving. He or she must log a total 50 hours of supervised driving (10 hours have to be nighttime driving) to progress to the next step of the GDL program: driver's license application.
Take note that aside from the mandatory 50 hours of supervised driving, teens under 16 ½ years must also complete a total of six hours of behind-the-wheel training with a driving instructor before applying for a driver's license. In the absence of an approved driving school within 30 miles of your residence, 20 hours of driving practice with an approved driving supervisor is required.
Restrictions parents should be aware of
Learner's permit
Teenagers under 16: Not allowed to drive with anyone except their driving instructor, parent, or legal guardian
Teenagers 16 and older: May drive with any licensed driver aged 21 and older
Driving license
For teens younger than 18, unless they are accompanied by a parent, guardian, or licensed adult 21 years and older:
For the first six months, no driving with a passenger under 21 (exception: siblings or medical emergencies)
After six months, no driving with more than one passenger under 21 (exception: siblings or medical emergencies)
For the first year, no driving between 12 a.m. and 5 a.m. (exception: emergency)
Final word
Parent-taught driver's education is much like homeschooling, but with a car. It is no walk in the park, but with dedication, patience, and the proper know-how, it can be done. Because the safety of your children can be at stake when they are old enough to drive alone, parental participation in driver training is crucial. What you teach them - directly or indirectly - can have a profound impact on their driving habits for the rest of their lives.
If you have questions about parent-taught driver's education, Western Slope Driving Institute can point you in the right direction. Give us a call today.