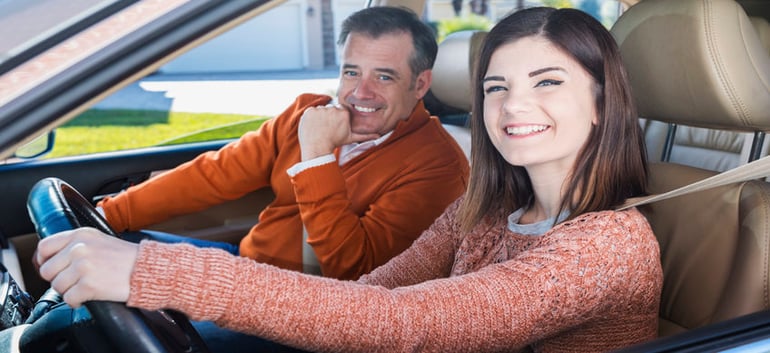 Yesterday, you were teaching them how to tie their shoes. Today, you're handing over the car keys. While the thought of your teen taking on the road alone in just a few short months is frightening, there are many ways you can properly prepare them for this major life moment. The State of Colorado holds a number of different driving restrictions to first-time drivers that help these inexperienced drivers stay focused safe. However, there are many things you as a parent can do to introduce guidelines and expectations to help your teen gain experience in practicing good driving habits. As a local driving school, we're here to help you safeguard your child during this momentous transition towards independence.
Practice, Practice, Practice
As the old adage goes, practice makes perfect. Well, when it comes to driving we all know that's not exactly true, but practice certainly makes a significant difference. As a parent of a novice driver, commit to a practice schedule on a weekly basis. In order to get a driver's license, the State of Colorado requires 50 hours of practice driving, including 10 hours of night-time driving. This provides the perfect opportunity for you and your teen to get out on the road. Accompany your child on practice drives all over the city including freeways, highways, downtown, the suburbs, etc. It's important for beginner drivers to practice driving in all kinds of settings and challenging locations.
During these practice sessions, make an effort to stay focused. Although it may seem second-nature, don't bring up touchy subjects such as grades, homework, boyfriends/girlfriends, or anything else that may distract from the task at hand. Even if something goes awry, such as running a yellow light or forgetting to use the turn signal, remain calm and give feedback in a constructive and respectful tone at the appropriate time.
Lead by Example
Your obligation as a parent is to help your teen become a safe driver. According to a study by the National Institutes of Health, parental involvement in driving significantly reduces dangerous driving habits during a driver's first 12-18 months behind the wheel. Although your child hasn't spent much time behind the wheel yet, they have observed your driving habits throughout the years and have likely picked up on a few things. Somethings to keep in mind when setting an example for your child:
Always drive the speed limit
Always maintain a safe distance between you and the car in front
Always wear your seat belt
Obey all traffic laws
Refrain from using your cell phone
What you teach them sets the stage for the habits they will carry throughout their lives. Your driving should set a personal example for your child to emulate.
Training by an Expert
While practicing with your teen is important, it shouldn't take the place of expert training through a local driving school. Professional instructors have been trained on the common mistakes new drivers tend to make and they are current and up-to-date on best-in-class curriculums and courses in the country. It is a driving institute's job to make your teen an informed and safe driver in a professional atmosphere.
As a parent, you have the ability to shape your child's perspective on safe and cautious driving habits. But you're not in this alone. Seek the help of an experienced and trusted driving school.