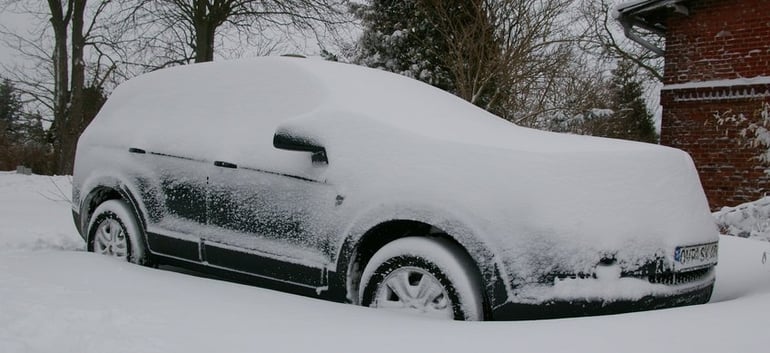 Spring has officially sprung in Colorado, which can only mean one thing: The roads are still going to be snowy. As a Colorado resident, you're likely aware of how the snow likes to continue to fly in until the summer months hit full swing. Some of you even like to go skiing or snowboarding until the slopes close to take advantage of these late season dumps. For these reasons, we're here to provide you with some tips on how to stay safe out on the road through the snowy spring months.
Winterize Your Vehicle
Make sure that your car is ready for any conditions. Get snow or all weather tires, as well as chains for when the snow gets very deep. Remember that snow tires can still slide on ice or packed snow, so chains are a great option to have. Also, it is important to keep your vehicle in excellent driving condition. Be cognizant of the condition of your tires, lights, windshield wipers, wiper fluid, brakes, defroster, and radiator. If any of these parts need repair, take your car to a trusted mechanic and before heading out in the snow.
Warm Up Your Car
Allow for a solid amount of warm-up time before driving. 15-20 minutes of time with the engine on should do the trick depending on the type car and the weather conditions outside. This is a great thing to do while digging your car out of the snow and scraping the snow from your windshield. This gives your defroster a chance to really get working to ensure you have clear windows by the time you get rolling.
Get a Feel for the Road
If possible, drive around in an empty parking lot to test braking ability and steering. This will give you a great estimation as to how much pressure you can apply to your brakes and how fast you can initiate a turn to avoid spinning out. This step is very important to develop your awareness of the conditions before getting out on the road.
Drive Slow and Keep Your Distance
Although this may seem like an obvious tip, many people still think that it's perfectly safe to drive fast in the snow. No matter how deep the powder is in the mountains, it's imperative that you hold your horses and adapt to the weather. A good tip for speed management in the snow is to drive half of the suggested speed limit or less. Slower driving allows the tires to maintain traction on the road, which can be lost when RPM and velocity of your vehicle are higher.
Additionally, it is very important to keep a good amount of distance between the car in front and yourself. Many rear-end crashes occur in snowy weather because drivers forget to leave stopping space. Usually, it is good to keep about twice the distance you would usually have between the car in front of you and your own.
You can learn how to apply these and many more great tips on the road in even greater detail in a Precision Skills Track course. And don't forget to turn to a leading driving institute to teach you driving best practices and safety tips.