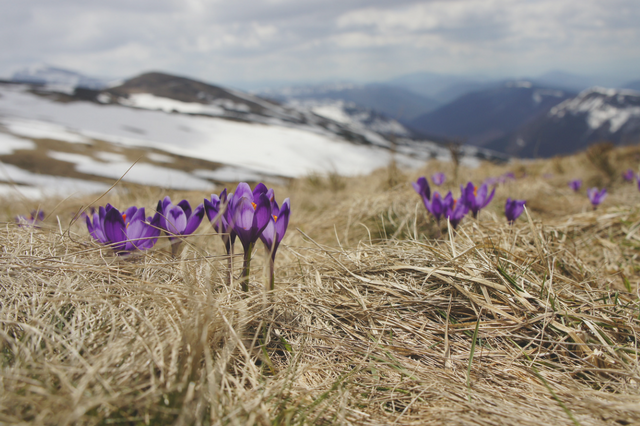 Winter driving is tough, as Colorado drivers can attest to. Heavy snow, freezing rain, and black ice make the roads dangerous for motorists.
While the onset of spring does not magically turn problem roads into Dream Boulevard in a snap, the spring/summer season is when you can forget about driving in frigid temperatures or hitting patches of ice.
So how do you best prepare your car for spring and summer when vacations and long drives await?
How to prepare your car for spring driving
1) Clean the outside and inside of your car.
Snow and corrosive road salt can damage your paint job, so give your car a little pampering and take it to a carwash. Get the package that includes undercarriage cleaning. The undercarriage is where salt and other winter grime accumulate. If you would rather wash the car yourself, here are some carwashing tips to earmark for future reference.
Some items you have stashed in your car for the winter may no longer be needed, such as a shovel or ice scraper. Until such time you need them back, keeping them in the garage will declutter your car and save up on space. Now is the time to also thoroughly clean your vehicle's upholstery, carpet, and floor mats. Be sure to always wash the windows and get some real parallel parking tips.
2) Check your brakes.
Rough driving conditions during winter can take a toll on your car's brake performance. Screeching and other piercing noises when you apply the brakes are a sign of pad wear, so have your pads checked before you damage other car parts.
According to the Les Schwab Tire Center, other symptoms of a brake problem include:
Brake indicator light is on
Vibration or wobbling when braking
Leaking brake fluid
Soft brake pedal
Burning smell
Car pulls to one side when braking
3) Check your tires.
Check the air pressure on all your tires (including the spare), and if necessary, adjust to follow the manufacturer's recommended air pressure. Also, check your tires' tread depth. Balding tires are dangerous, especially during rainy days when a good grip on wet pavements is essential.
If you are using winter tires, schedule a tire change. Winter tires wear faster on warm, dry roads and can negatively affect your car's road performance. Remember to check them for any signs of wear and tear before you store them.
And then comes tire rotation. Rotating your tires at the recommended times evens out tire wear and preserves traction. Check your car's manual for specific rotation patterns.
4) Check your wheel alignment.
Potholes and other unfavorable road conditions are bad news for your car's wheel alignment. Misaligned wheels can cause rapid or uneven tire wear, and increase fuel consumption due to more energy required to drive your car.
Other signs of misaligned wheels to watch out for, according to Firestone Complete Auto Care, are:
Squealing tires
Car that pulls to the left or right
Crooked steering wheel when driving straight
5) Check your car's fluids.
Car fluids you should be checking include power steering fluid, brake fluid, cooling system fluid, and a possible oil change. An oil change may hurt your wallet a bit, but deferring one when your car needs it may end up in you shelling out thousands for a transmission repair or replacement.
Do not forget to also check the car's lights, belts, battery, spark plugs, air filter, wiper blades, and air conditioner.
6) Winterize Your Vehicle
Make sure that your car is ready for any conditions. Get snow or all weather tires, as well as chains for when the snow gets very deep. Remember that snow tires can still slide on ice or packed snow, so chains are a great option to have. Also, it is important to keep your vehicle in excellent driving condition. Be cognizant of the condition of your tires, lights, windshield wipers, wiper fluid, brakes, defroster, and radiator. If any of these parts need repair, take your car to a trusted mechanic and before heading out in the snow.
7) Warm Up Your Car
Allow for a solid amount of warm-up time before driving. 15-20 minutes of time with the engine on should do the trick depending on the type car and the weather conditions outside. This is a great thing to do while digging your car out of the snow and scraping the snow from your windshield. This gives your defroster a chance to really get working to ensure you have clear windows by the time you get rolling.
8) Get a Feel for the Road
If possible, drive around in an empty parking lot to test braking ability and steering. This will give you a great estimation as to how much pressure you can apply to your brakes and how fast you can initiate a turn to avoid spinning out. This step is very important to develop your awareness of the conditions before getting out on the road.
9) Drive Slow and Keep Your Distance
Although this may seem like an obvious tip, many people still think that it's perfectly safe to drive fast in the snow. No matter how deep the powder is in the mountains, it's imperative that you hold your horses and adapt to the weather. A good tip for speed management in the snow is to drive half of the suggested speed limit or less. Slower driving allows the tires to maintain traction on the road, which can be lost when RPM and velocity of your vehicle are higher.
Additionally, it is very important to keep a good amount of distance between the car in front and yourself. Many rear-end crashes occur in snowy weather because drivers forget to leave stopping space. Usually, it is good to keep about twice the distance you would usually have between the car in front of you and your own.
Final word
During winter, your car works extra hard. Ensure it stays in shape for spring and summer driving by keeping the above pointers in mind. Additionally, make sure you are prepared to safely drive in the rain.
If you are looking for a driving school to mold your teenage driver into a safe driver for life, Western Slope Driving Institute is a Littleton driver's education provider that values teaching excellence. Proof is its employment of retired and active police officers as faculty members.
For any questions you may have, or if you would like to sign up your child for any of our courses, please give us a call.