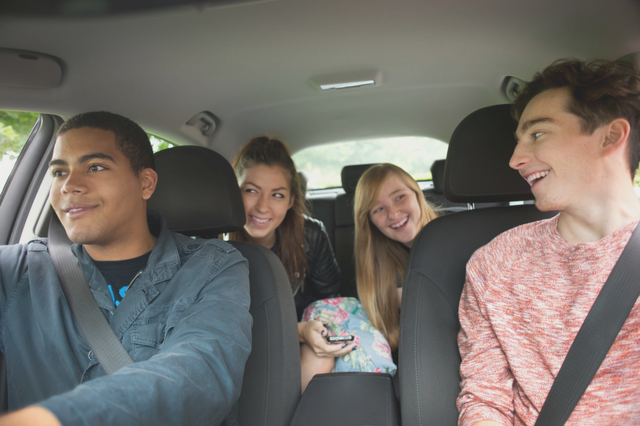 The stats do not lie: 16-year-olds have higher crash rates than drivers of any other age.
In other words, teen drivers are among the most dangerous of all drivers on the road, and new drivers need a few years before they are "up to speed" on safe driving habits. They may act like they do not, but teens need a helping hand from parents, friends, and other people to truly adhere to the rules of the road.
Parents might not observe these habits, as they're not in the car with their teenager. For that reason, let's discuss the most common bad habits of teenage drivers. Is parallel parking the worst thing that teen drivers have to face?
1. Distracted Driving
For drivers to stay safe while on the road, three essential elements are needed:
Hands on the wheel
Eyes on the road
Mind focused on driving
Take one away from the equation, and the consequences can be dire.
Distracted driving is deadly, and drivers, teen drivers especially, must proactively participate in putting a stop to it.
According to the National Highway Safety Traffic Administration (NHTSA), in 2015 alone, distracted driving claimed almost 3,500 lives, while the number of crash-related injuries involving distracted drivers totaled 391,000.
Distracted driving happens when an activity takes your focus away from driving. Such activities include:
Eating and drinking
Talking to passengers inside your car
Calling or texting
Browsing social media or taking selfies
Tinkering with the car's stereo
Applying makeup
Paying attention to things outside the window instead of the road
The NHTSA adds that among the most common driving distractions, texting while driving is the most alarming. It takes your eyes away from the road for at least five seconds, which, when driving at 55 mph, is equivalent to driving the entire length of a football field with eyes closed.
2. Ditching the Seat Belt
According to the Centers for Disease Control and Prevention (CDC), "seat belt use is one of the most effective ways to save lives and reduce injuries in crashes. Yet millions do not buckle up on every trip." The agency also notes that in 2015, at least 52% of the teens and adults who died in car crashes were "unrestrained." Meaning, they were not wearing their seat belts.
Statistics compiled by the National Safety Council paints an even grimmer picture: Failing to wear a seat belt accounted for 66% of all teenage passenger deaths in car crashes.
Seat belts save lives. The NHTSA reports that approximately 14,000 lives were saved in 2015 and nearly 345,000 since 1975 because of seat belt use.
Modern vehicles now have more safety features than ever before, but the simple seat belt is still the most important.
3. Speeding
Ah, the thrill of the chase, the feel of the wind, the taste of freedom - all good if they do not involve speeding and endangering your life and those of others on the road.
Speeding statistics from the Insurance Institute for Highway Safety (IIHS) state that since 2005, speeding was a reason behind more than 25% of crash deaths. In 2015, that number was 27%.
Speeding is not just about exceeding the designated speed limit. It also happens when you drive too fast for conditions like snow, fog, or rain. You can lose control of your vehicle when you speed, especially on curves. You even significantly shorten your reaction time in emergency situations.
Final word
Teens, by nature, can be stubborn and impulsive. As such, they need all the help they can get. Alongside a driver's ed in Grand Junction, Parker, Denver, or Littleton to teach them everything they need to know about safe driving habits, parents play a crucial role in making sure they stay safe behind the wheel through monitoring and constant reminding.
If you need help keeping your teen's bad driving habits in check, call us today so we can discuss how we can assist you.